Falcon Silkroad

Private server powered by SilkCore developments!

Falcon Silkroad

Private server powered by SilkCore developments!

Falcon Silkroad

Private server powered by SilkCore developments!

Falcon Silkroad

Private server powered by SilkCore developments!
Jangan Fortress Owner
Verizon
Bandit Fortress Owner
Nobody
SilkCore Falcon

Falcon Introduction:
Hello Silkroad Community! Falcon-Silkcore is refreshing its blood with a new update that will provide the players with new experiences and new features to interact with.But before going into the server main features and talking about the new update we would like to give you some information about Falcon-Silkcore. Falcon been online since 2012 providing its players with a stable uninterrupted gameplay experience, and as Falcon is almost 5 years old we decided to come out with a new update that will increase the players count and let the old players enjoy their playing experience.
Why should you chose Falcon?:
As previously said Falcon been online for almost 5 years now and we are not willing to close it anytime soon in the feature. We are going to be adding continuous updates so that we can keep our players base satisfied and make sure that they are enjoying our serve.
New Players:
As the server is being online for a long time by now , New players will think its nearly impossible to achieve anything in the server and its going to be hard to compete with the old players. We have had this in consideration and made our new update so we can also give our new players a fair chance so they are able to join the different server activities and events and allow them to be able to catch up with our old players in an acceptable way. Read the thread carefully so you can know how we managed to make it easier for our new players to join us.



Download Links:
Falcon Silkcore - Downloads
Contact Us:
Falcon Silkcore - Contact Us
Server Rules:
Falcon Silkcore - Rules

Cap And Degree → CAP 125 -- D13
Falcon used to be on Cap 120 , but one of our new server updates is to be on Cap 125 including new features along side it , we hope that people will enjoy the new features coming with the 125 CAP.
Races → EU / CH
European and Chinese builds with each other is always good as good as they are well balanced , We have made sure to work on the balance aspect specially for the Chinese race.
Rates → Exp:160x -- Party Exp: 170x
Leveling up is pretty boring right specially in a Cap 125 server So this is why our rates are kind of high , But so we still do not make your Plvling experience boring we have added a new way which will take you from level 1 to 120 with some fun.
Mastery → EU: 250 -- CH: 250
We have implemented the new iSRO skills system in our update which helps us with the balance between the builds , Further information about the skill will be discussed later in this topic.
Job Level → 20
20 ? Yes its 20 you saw it right . We have added new Job Systems and activities which will give you awesome rewards and Job suits unique
Fortress War → Jangan -- Bandit
Fortress War !! The most beloved activity for any SRO player. We have opened 2 fortresses [Jangan -- Banit] and this could change if needed.
Max Plus → +13
The max plus on any item in Falcon is going to be +13 No Adv [+15 with Advanced Elixirs] and You wont be able to go any further than that. A list with the alchemy rates will be included in the thread.
Guild Limit → 32Union Limit → 3Magic Pop → Disabled

As we mentioned above that Falcon is an old server which could be a problem for anyone who wants to join the server but thinks that he got no chance among the other old players who already got their sets and items. But just to make sure that everyone is getting a fair chance to try our game and enjoy it , we have focused on the New Players who will be joining our server by providing them with the needed Start Items , Auto Equipment System , Power-Level Quests.
Start Items
We have added some basic start items bounded with the new characters that could help the new players with their grinding journey.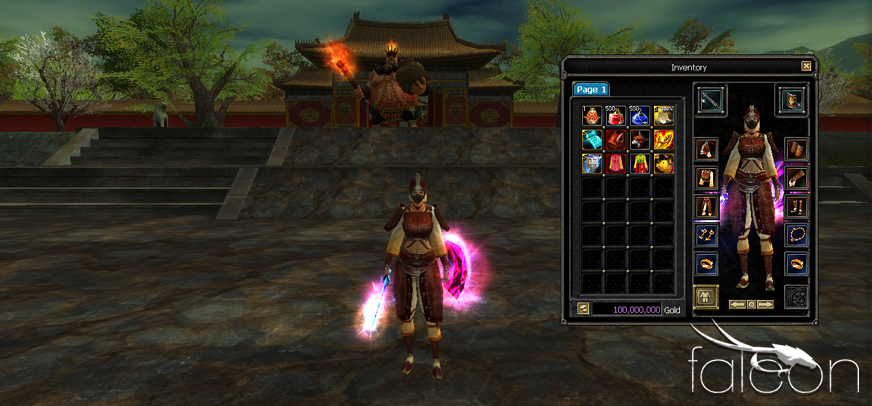 Beginners Quests || Auto Equipment || Level Up
We as Silkroad players know how much it is annoying and boring to Plvl and to farm SP and look for new items as drops that could help you in your progress. So we have made our own mobs hunting quests that will reward you with good rewards.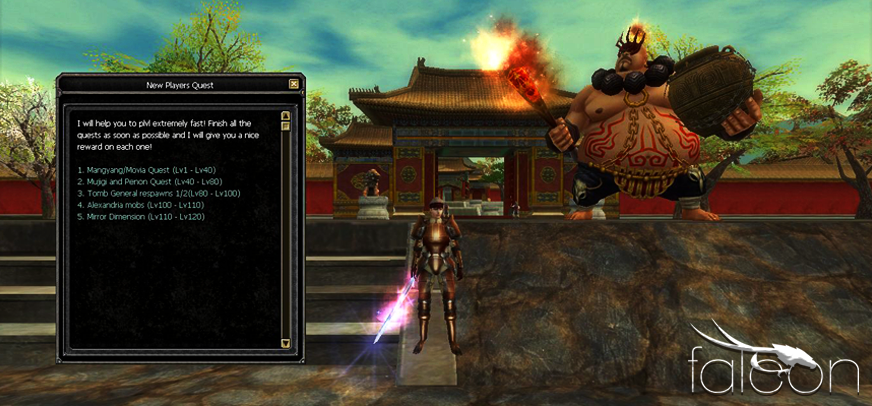 SoX in Falcon
We have 3 types of SoX items in Falcon regarding the set gears. Seal of Moon , Seal of Sun and Falcon Seal Of Sun. Falcon Seal of Sun is the last tier gear which we included into our game in this update.We will tell you the ways of getting each set down below.
→ Seal of Moon
You can get the Seal Of Moon Items by grinding in the Mirror Dimension Area , Their drop rate is high so its easy to get.
→ Seal of Sun [Normal]
Seal of Sun is obtainable by more than one way . Doing the Osiris Hunting quest (will be discussed later in the thread ) or with the Mysterious Card that gives you a random Normal Sun Item , or you can choose to buy it from our shop for C-coins.
→ Mysterious Card: Its a card that you can buy from the Arena Coins Shop which will grant you a random D13 Sun Item.
→ Falcon Seal of Sun: As this is the last tier gear so it would require the most work so you can achieve it. We have related it to our new quests that we implemented lately to our server and its both Hunting and Job Based quests that we are also discussing in the Quests Part. You will need to get the Awakens for the Gears, Accessories, Shields and the Weapon so you can upgrade your Normal Sun parts to Falcon Seal of Sun, in addition to that you wont be able to upgrade your items unless they are at least +7..
Upon upgrading your Normal Sun items to Falcon Sun your +7 item is going to be +0.
If you got higher + on your Normal gears it will be shifted to the Falcon Sun normally.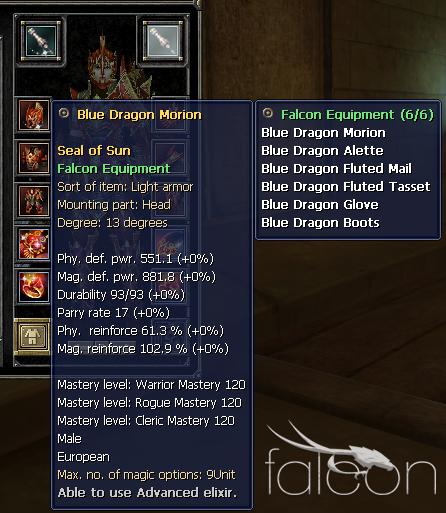 Title Names Shop
We have added a new NPC full of new titles that you could get for Silk . You can always switch between the titles that you bought using a feature on our website. We hope that you can find the one that suits you the best.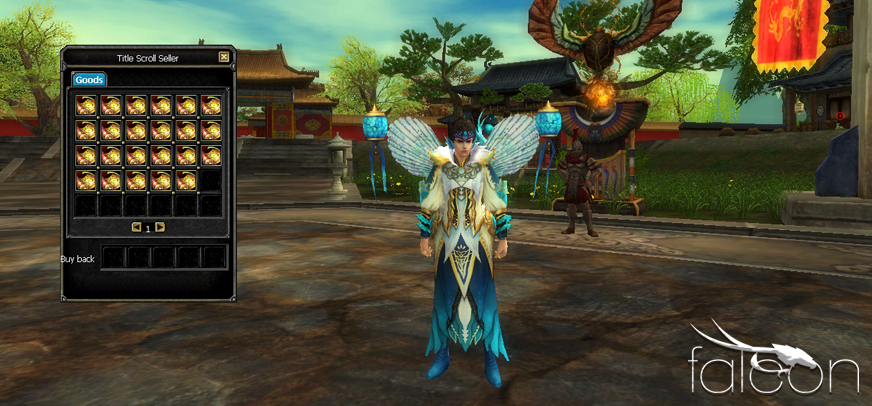 The Arabia Expansion
We have implemented the whole Arabia Expansion including Baghdad , PetraMaze and Devils Garden with the monsters and uniques exactly as on iSRO.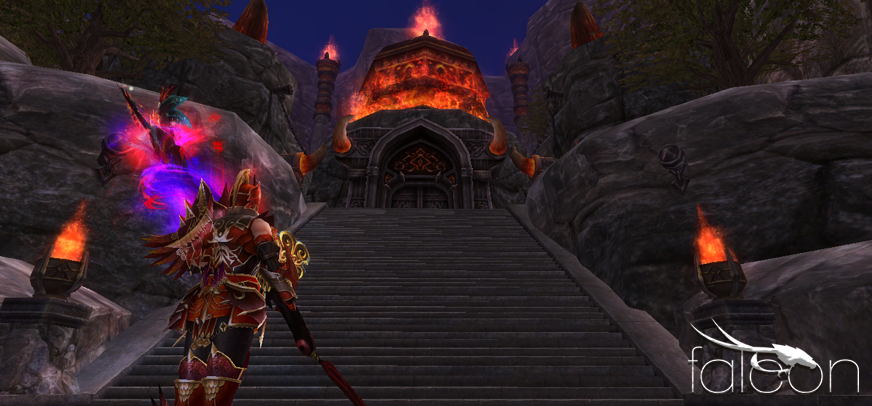 Arabia update screenshots
Alchemy
We have reworked our alchemy system from what it used to be before , The max plus value on any item is +13 No Adv. The alchemy system is not easy and not really hard so its impossible to do any alchemy so we are having mid alchemy rates which will insure that not everyone get the max plus in a really short time.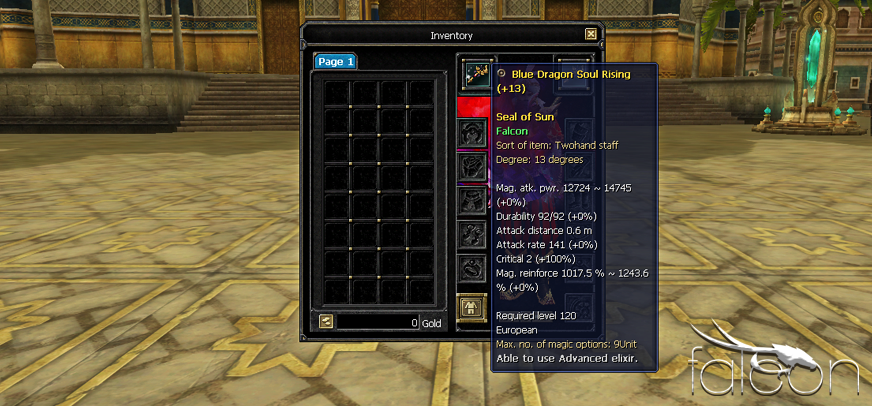 → We have also added new alchemy items and scrolls that will help you with your alchemy process.
→ [*] Lucky Buff Scroll
You can get this scroll with Job Points , It lasts 10 minutes but giving you a great boost in alchemy..
→ [*] Plus Saver +9
You can get this scroll with C-Coins or in events. It saves your weapon if you failed at alchemy to go back to +0 if you failed it in a more than +9 try , So it keeps it at +9.
→ [*] Falcon Lucky Powder
Its a new kind of powder that you can get from doing in game activities and quests which will give you more success rate than the normal powders.
→ [*] Advanced Falcon Lucky Powder
This powder will give you double the success chances of the Falcon Lucky Powder. So this poweder will give you the highest success rate you can ever get when you use it on any of your items.
→ [*] Advanced Elixir Removal
This item will allow you to remove the +2 Advanced Elixir effect from any of your items.
Alchemy Rates
+1
+2
+4
+5
+6
+7
+8
+9
+10
+11
+12
+13
55%
50%
44%
38%
46%
30%
15%
1%
1%
1%
1%
1%
Uniques
We have added alot of uniques as we know that hunting uniques is one of the favorite activities for SRO players. So we have added the new Arabian Uniques with their Original names from iSRO so you wont find random unique names like MUSTAFA MISTIK and such things. And we have also added various rewards to those uniques that would make it more challenging to go and kill those uniques.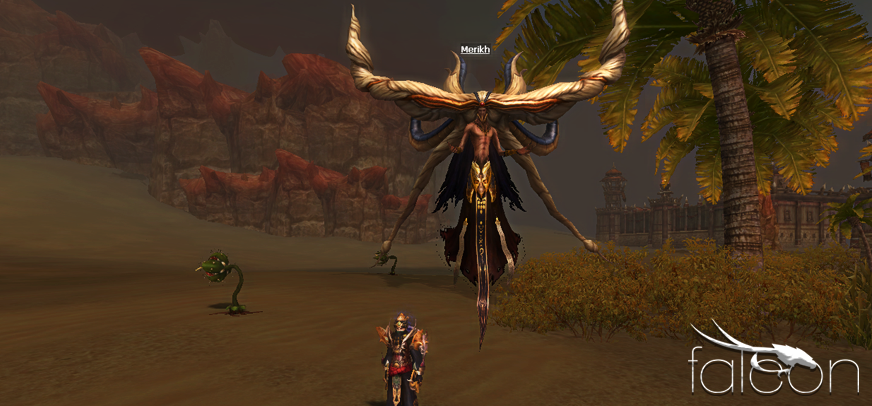 Quests
We have focused a lot on making achieving things in Falcon Quest based as it will increase the activity and the communication between the players making things more fun. We have got 2 NPCs full of quests and a lot of rewards. We are going to tell you how every Quest works and what should you do to achieve your rewards.
→ Falcon Quests Manager [Jangan].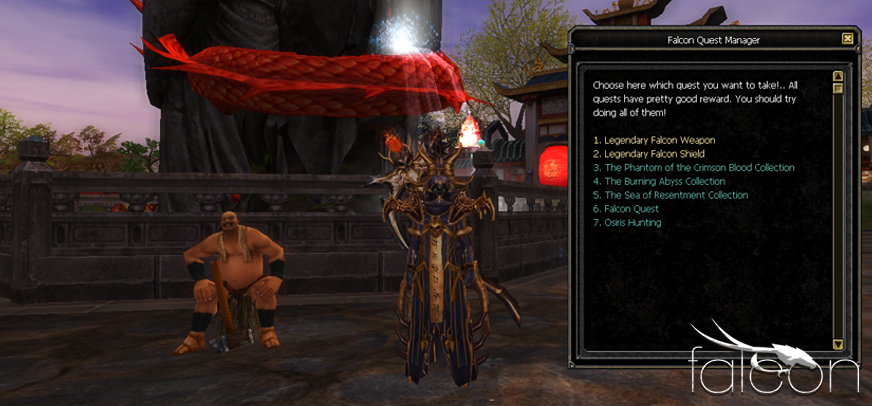 → Baghdad Quests Manager [Jangan].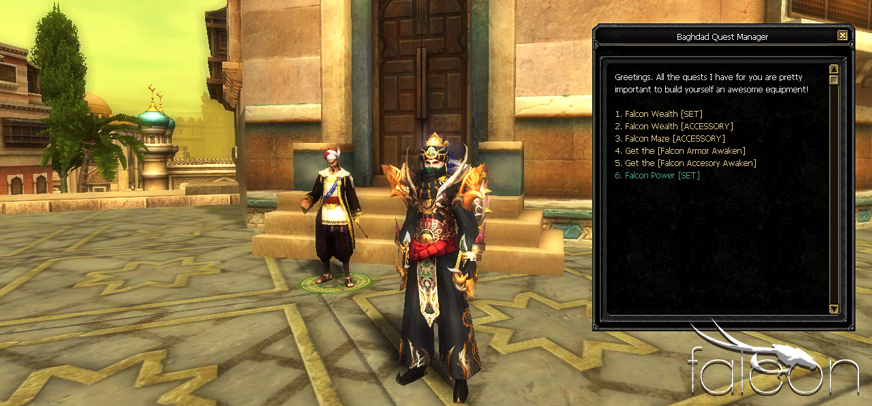 Job System
We have focused on the Job part with our new update and came out with a new system from what we had before so it would be more active and more fun to do.
→ [*] Job Levels
As we have mentioned above in the thread we have got 20 Job Levels you can go through. Leveling Up in job is done by buying special scrolls that we sell in the Job Points Shop that will give you 1 level each time you use it.
→ [*] Job Points
Job Points is the main currency that you are going to get rewarded with when doing Job activities and you will also use it to buy your Awakens , Job suits and will also be included in buying trades and other activities.
→ You can get Job Points by several ways:
→ [*] Killing other Jobs players
Killing players from another Job will give you 2 Job Points for each kill. But if you died or got killed then you lose 1 Job Point.
→ [*] Trading
Going for trades is a little different now. You wont just need gold only to start a trade but you are going to need Job Points too. You need to know that we updated the Trading Items Stack and pets so it would be only 7 slots for a 5 stars trade. Each one Trading goods costs you some gold and 2 Job Points to buy. And upon delivering and completing your trade you gets 4 Job points for each trading item, so 28 Job Points for each 5* trade.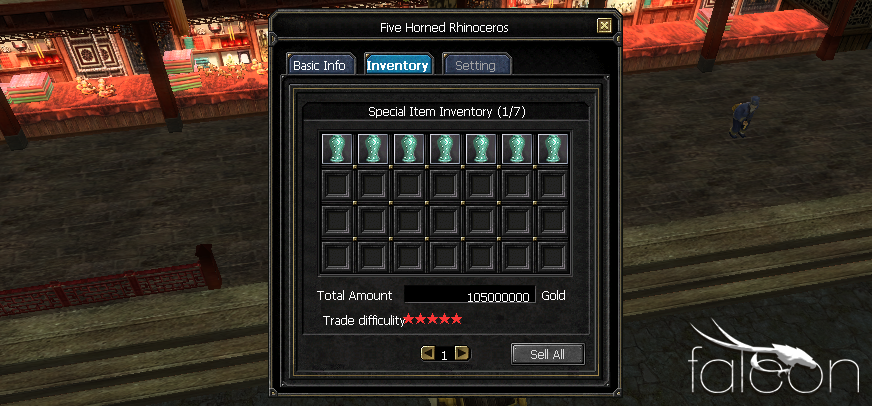 → [*] Falcon Quests
We have discussed the Falcon Quest above in the Quests part. It grants you 10 Job points upon completing it.
→ [*] Falcon Letters
You can collect the Falcon Letter by attacking mobs in the Mirror Dimension Area. More information about the event is going to be posted in the special features part of the thread..
→ [*] Job Uniques
Killing the Job Uniques rewards you with Job Point boxes which gives out a random amount of Job Points.
→ [*] Trade Routes
Custom Trade Routes ? uggh no . We have kept it easy and simple so you can enjoy the old trading/thieving experience but with a little bit of modifications. The only trade routes working in Falcon are from Jangan , Donwhang, Hotan. So this means you can only Trade around the Chinese towns / PetraMaze..
→ [*] Job Suites
We have added new Job suits , you have probably saw some of them on other server but we have added some features to those suits so it would worth getting.So our Job suits are Job level based , you get 5 suits for each Job with different STR / INT MagOptions. You can but the new job suits from the Job Points NPC for Job Points.